Corilla pitch training with Olivia Fox Cabane
I was sitting at my desk in the NUMA accelerator when the team dropped a book on my keyboard. It's no secret that I eat up about a book a week, but I don't think I would have typically picked this one myself.
"The Charisma Myth?," I thought quietly. "I'm in an accelerator, I don't have time for this soft-skill stuff."
The team told me that I would be meeting the author in San Francisco, and that Olivia had worked with a huge array of startups (including an early Airbnb). So I took the book with me on the flight over.
And I'm glad I did.
Pictured below is a moment during my session with Olivia at the French tech hub in San Francisco. I was second up, and while I'm usually first in these things, it gave me an unfair advantage for being able to just admire her energetic and interactive style. And then jump in head first.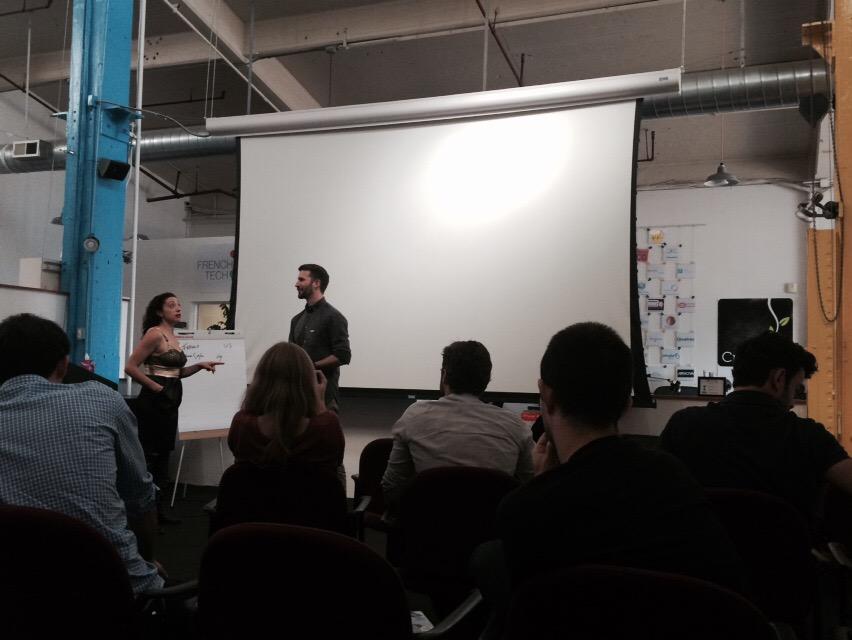 Olivia's pitching sessions are less about getting through a pitch, and more about her interrupting constantly to throw hilarious and sometimes confronting feedback at the pitcher. And all of it useful.
For an Australian founder from the NGO and open source sectors (let alone my time in coal), I loved it. This kind of "bang the table" interaction and guidance is priceless for someone focusing on the end goal.
The French founders that make up the vast majority of this NUMA cohort were maybe a little more taken aback. The French culture after all isn't quite so used to publicly "taking the piss", as we say in Australia. But this is the point of them coming to San Francisco... to get excited, to get shocked, and to get practicing their English again.
A few key takeaways:
The very first seconds of a pitch are an opportunity to engage on a level far beyond a simple "hello my name is" introduction.

Foreign presenters can benefit from being an "exotic" factor, and use that to build up insights or a narrative. Or they could just sound annoying and stumble their way through boring introductions and explanations.

Each presenter has a unique narrative potential, and working with someone trusted can help pull out the benefits of their personality, and push back on those elements that might not connect or suit the pitch (e.g. some people can be funny, some can be charming, some can be seriously sincere - but few all in the one pitch).

And of course, there's a pretty comfortable set of rules and guidelines for this stuff. Hence the book.
So thanks NUMA for hooking this session up, and thanks Olivia for the candid feedback and incredibly fun session.